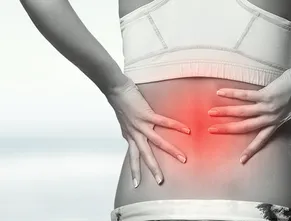 Most often, people come to us because they are experiencing some form of back pain. Back pain, Neck Pain, Headaches, Sciatica. etc. are almost always caused or made worse by vertebral subluxations - a condition where the communication of your nervous system is physically compromised. A detailed explanation of subluxation is available here. At your first visit to our Middletown chiropractic office, we will perform a series of evaluations to see how we should help.
You are absolutely in the right place to get the back pain relief you need. I, Dr. Gibson, have been a chiropractor for over 26 years and at Easton Pond Chiropractic since 1996. (More about me here. ) I have seen thousands of patients become pain free. Some of my clients have been generous enough to leave reviews. I encourage you to read them. These are people who have trusted me to care for them and who have gotten better.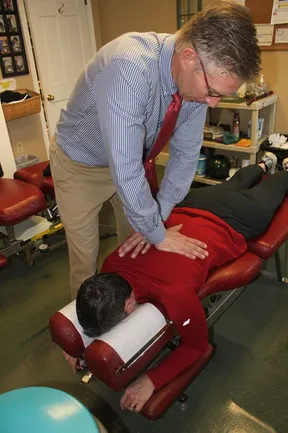 Chiropractic adjustments make it possible for your spine and nervous system to function as it should, so that your body can heal what is hurting. However, it is important to remember that our goal is not just for your pain to go away, it is for your body to be well again. These are different things. A truly "well" body, with a nervous system functioning in good order, will get injured less, become sick less, and generally perform better than one that is simply "free of pain."
Ninety percent of subluxations do not result in pain you can feel – but that does not mean that your body is not suffering from the loss of nerve function. I, Dr. Gibson, was introduced to chiropractic as an adolescent when I was suffering from severe seasonal allergies . Are allergies 'pain?' Maybe not, but they are a great example of a body not being truly well. With regular chiropractic adjustments, my allergies went away and STAYED away. When the adjustments stopped, they came back. Regular chiropractic care had been improving the function of my nervous system, increasing my body's ability to heal itself and making me more 'well.'
If you are in pain, we want to address that immediately. But our true goal is not for you to be just pain free. Our goal is for you to feel as good as you possibly can.