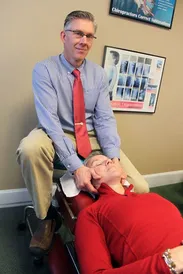 If you suffer from headaches or chronic migraines, I want you to call our Middletown office and make a chiropractic appointment today. Not tomorrow. Right now. Life doesn't have to be like this. I have been a chiropractor on Aquidneck Island for over 22 years and I have literally helped hundreds of your neighbors become free of their chronic migraines and headaches. I would like to try and help you.
Fifty percent of headaches are caused by problems in the neck. Most headaches are absolutely treatable, without medication. Please check out our 3D Spine Simulator to see how a stuck joint in your neck might be causing you symptoms elsewhere. In my Middletown RI office, we will evaluate you, and then gently get your neck moving properly. We will give you simple headache prevention exercises to keep migraines at bay. You will be able to rely on migraine medication less, maybe stop taking it at all. It works.
I can't say it any better than my patients do. Please read some of their reviews below learn how I have helped them with their chronic headaches, then click to request an appointment today.

---
Cynthia H, Google Review, October 2017
Dr. Gibson and his staff are amazing! I have suffered debilitating migraines from the age of 13. Last week I couldn't function at work, and couldn't wait for my appointment which was only 1.5 hours later. He took me in early and adjusted me, it was the first time I have ever had instant relief from a severe migraine. I can't thank him enough for the difference he has made in my overall comfort. I recommend his service to everyone!
Dina L, Google Review, 2016
I've been coming to Dr. Gibson for twenty years to keep my headaches and neck issues at bay. He and the staff are super friendly and helpful!
Jen F, of Middletown, RI, Google Review, 2016
I used to get headaches everyday and now I don't thanks to Dr. Gibson!! Dr. Gibson and his staff are super friendly!
Laura B, of Newport, RI, Patient Review, 2017
I have had headaches for as long as I can remember. My mom and my sisters have headaches - it's a family thing! In 2014 I think I had a headache at least half of the year. I had tried different medications and nothing would dent them. When I moved to Newport, a friend referred me to this Chiropractor. I have been a patient for 3 years and I can honestly say I don't really get headaches anymore. Ask about the "YWTL" exercise for preventing headaches. I honestly think that that one exercise and my weekly adjustments will keep me migraine free, permanently.
Our Middletown chiropractic office has moved to 272 Valley Road, Middletown, Rhode Island.