It's better to grow healthy kids than to repair damaged adults.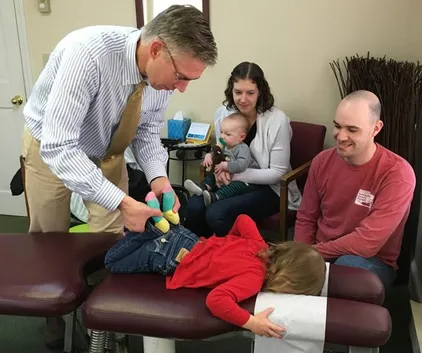 Some people are not clear about the reason for having children examined by a chiropractor. I understand that most people think of chiropractors as 'back' doctors and only seek our services when they have back pain or are suffering from headaches. I hope that my patients know that chiropractic is much more than that.
Through your adjustments we are correcting subluxations, which are interferences to your nervous system. Your nervous system controls everything that happens in your body, from regulating your temperature and telling your heart to beat, to the circulation of blood and digestion of your dinner. The causes of subluxations are physical, chemical and emotional stress. This is something that happens to all bodies regardless of age.
True "Family" Chiropractic
Although we don't like to think of our children as suffering from stress it can be found in many forms such as food preservatives, pollution, family tensions, sports, sleeping in car seats, and even lingering issues from the birth process.
You might be surprised that chiropractic is very much suited for newborns. The birthing process can be very difficult for babies. The trip through the birth canal is traumatic and can cause spinal subluxations (interference to the spinal column.) When these subluxations are addressed sooner rather than later, it can help to avoid health issues and concerns.
Checking the spine of your child is simple, safe and takes only a few minutes for you and your child. To address the issues that might show themselves in this exam I use only the tiniest pressure. The pressure is so little that it wouldn't leave a mark on a ripe tomato and will not be of any discomfort to your child.
Achieving wellness is a whole family affair...
Seeing a chiropractor early can help you to avoid early childhood issues such as colic, poor appetite, erratic sleeping habits and earaches, as well as a variety of problems they might grow into, including scoliosis. Addressing your child's health issues naturally can also help you avoid unnecessary drugs and antibiotics. (My own children, who received regular pediatric chiropractic care, did not need any antibiotics at all in their first ten years of life!)
"It is so much easier to treat and guide a healthy new body to correct its small problems before they become serious childhood issues." Dr. G.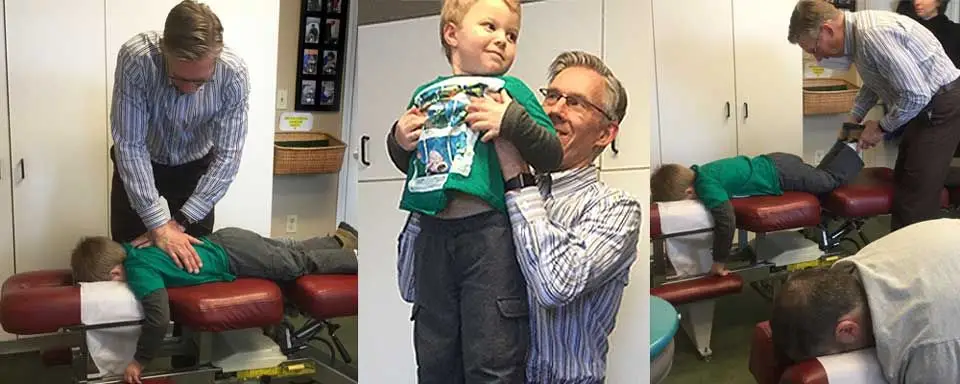 "My children (ages 6 & 2 1/2) have been coming to since they were born. I know that coming to see Dr Gibson regularly makes a difference in my children's overall well being. " ~ Mother of Ethan and Jacob

"We look forward to our weekly family chiropractic outing. We all feel great afterwards." ~ Mother of Rose Ellen age 3 and Emma 1 1/2 years

"My children's health sky rocketed since they've been coming to Easton Pond Chiropractic. My daughter is in 8th grade and has never missed a day of school." ~ Mother of Briana, Jonathan and Celina